Part Time 4WD Conversion
This improves fuel economy, reduces driveline backlash and reduces vehicle maintenance costs. It also enables the LOKKA automatic diff locker to be installed to the front differential.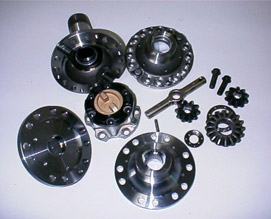 *Original and Replacement Parts
Fuel Economy
Obviously there is a reduction in the load on the engine if the front section of the transfer case, the front tailshaft, differential, axles and wheels are not being 'driven'. This reduction in load translates to increased fuel economy.
Maintenance
Front axle seals, CV joints and the outer drive flanges wear heavily with constant use, resulting in expensive and needless repairs several times over during the life of the vehicle. The cost of overhauling the front differential housing once will be nearly twice the cost of fitting the Part Time Kit alone.
Other major parts such as the front tailshaft, axle seal surfaces on the front axles and the front differential itself also wear but at a lesser rate than the other parts. These parts will require repair - at a much greater cost - but fortunately less often.
Backlash
The existing driveline has multiple points of contact where 'backlash' or 'play' can occur. There are 3 differentials in the system with many splined couplings and flanges. The accumulation of all these points of backlash often result in the sloppy feel and clunky noises when rapidly changing throttle position or when changing gears.
Fitting of the Part Time Kit reduces the total amount of backlash by 75% in some cases. The vehicle has a much tighter feel and considerably smoother gear changes. Although less noticeable in automatic vehicles, the problem still exists. The steering is also noticeably lighter.
Answer
A simple kit can be fitted to the Transfer Case in approximately 5 hours. No special service tools are required. The existing centre "Diff Lock" button or lever becomes the 4WD engagement button just as in the late FJ62 & FJ73 Series Landcruiser factory engagement mechanism. A quality Free Wheel Hub set is included in the kit. There are comprehensive fitting instructions for the DIY owner. An additional benefit of this installation is the Lokka automatic diff locker can be fitted to the front differential which greatly improves traction in all 4WD situations.

PDF Downloads

Full Time to Part Time 4WD Conversion Kit suit 80 - 100 Series Landcruiser
Recommendations
Bill H of SA
Toyota LCR HDJ100 2006, LCR HDJ80
Just want to thank you for the recent upgrade with the front Lokka and part time kit for my 2006 GXL 100 series Auto Turbo Landcruiser.
As with the 80 series which I had for 12 years and 600,000 kms I am pleased with the performance, fuel economy and reliability from the Lokka and part time kit.
With my work in the Petroleum Exploration, Heritage Surveys, and Pipeline Survey industries, often in very remote regions of SA, NT and QLD; I need to access all types of terrain mostly before any road construction. I travel a variety of conditions, many highway miles, outback tracks and off-road scouting (often where no tracks exist).
Vehicle reliability and capability are paramount, as I often travel single vehicle.
I realised the reduction in fuel consumption ( 15%) and expensive wear & tear in the front end with the 80 Series and can report the 100 series is giving me similar results.
I had the Lokka fitted to make off-road scouting possible in the remote locations I work. I am amazed at the change in the vehicles capability with the front Lokka installed. During off-road scouting I have been able to climb sand hills that other standard vehicles -100 Series, 70 Series troopie & ute – were unable to follow, even in my tracks.
I have no problems with engagement and steering. I only realise I have it engaged when I occasionally hear the Lokka unlocking.I am extremely happy with the decision to install both parts, having achieved my original aims and much more.
I replaced my 80 Series at 600,000kms, having travelled 420,000kms with the Lokka and Part Time Kits fitted for the last 8 years.
Now with a 2006 100 Series turbo diesel auto, I have fitted the Part Time Conversion and front Lokka, with the same result. Off road performance is astounding, even though it has torsion bar front suspension. I was dubious about its ability prior to in-field use, but I need not have worried.
I would like to reiterate how happy I am with the Lokka and Part Time Kits, both perform exactly as explained and extensive use has proved them to be extremely reliable.
---
Ian M of SA
80 Series
Just a few words about the Part Time 4WD Conversion you did on my 80Series Cruiser. Driveability has improved dramatically with no clunk in the drive train as you engage the clutch. My wife will now drive it!
Turning circle is better as there is no drive to take you in a wider arc. After not showing much in the way of better fuel consumption, I found I had an air-filter problem, I can see a marked improvement, both in towing a 2 tonne van and in normal work. Between 10-15%!
---