ƒ
Bull Bars
---
Search for Bull Bars and related items in our webshop
---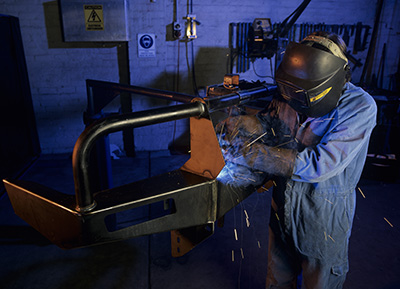 4WD Systems has a range of Steel and Alloy Bull bars - designed with strength, durability and attractive looks foremost in mind. The range is computer designed with a list of useful options - equally at home in town or in the bush
A Bull Bar is far more than just a simple protection device for you and your vehicle, it is a purpose built 4WD accessory designed for strength, functionality and stylish good looks for the modern vehicle.
It provides the mounting place for lights, winches and aerials that will withstand animal strikes, impacts with terrain and other vehicles - that would otherwise cause more expensive damage and the inconvenience and disappointment of a ruined holiday.
In particular the light weight design improves your vehicles ground clearance, approach angle and turning circle. There is no compromise in your vehicle's handling and performance.
Each bar is designed and manufactured to suit the model of vehicle and compliment the original lines and body shape. All steel bars are finished in a high quality long lasting powdercoat.
The computer aided design is the key to all the characteristic benefits of both the Steel & Alloy bar - safety, good looks, strength, light weight, impact resistance, ground clearance and vehicle protection.
The one piece folded & welded bumper design provides light weight structural strength and rigidity, the multiple axis chassis mounting system gives the bar its strength by mounting it to the chassis in all three directions and spreading the load. This type of engineering means reduced weight while maintaining the strength of the old style steel bars of a bygone era. The mounting system is much stronger than the single 'flat plat' mounts common to low quality steel and most alloy bars.
The tapered wing and angled bumper sections improve ground clearance, approach angle and turning circles resulting in improved off-road performance as well as having the benefit of an attractive slimline design which further reduces weight.
Standard Features for Commercial Steel Bar
'A' Style has traditional A shaped uprights (when viewed from side on)
Air bag compatible
Polyurethane cushion to reduce impact
Winch compatible
Recessed indicator & park lights
Computer aided design & manufacture
Radius formed tapered wings
Fabricated bumper construction
Split bumper for greater airflow & greater strength
3-axis chassis mounting system spreads impact & winching loads
Hillift jack lifting points adjacent the uprights
Mandrel bent tubing
Side hoops upright to suit side bars
Fully formed aerial & light mounts x2
Complete DIY Kit provided
Wide Range to suit many 4WD vehicles
High tensile zinc plated nuts, bolts & washers
Anti-corrosion preparation for durability
High quality powdercoat finish
3 Year Warranty - Unlimited Kms
Standard Features for Premium 'A' Style Steel Bar & 'H' Style Steel Bar
'A' Style has traditional A shaped uprights (when viewed from side on) - Commercial & Premium
'H' Style has 3 Hoops above the bumper section - the centre Hoop is 76mm, outer hoops are 50mm
Fog lights
Large Polyurethane cushion to reduce impact
Air bag compatible
Polyurethane cushion to reduce impact
Winch compatible
Recessed indicator & park lights
Computer aided design & manufacture
Radius formed tapered wings
Fabricated bumper construction
Split bumper for greater airflow & greater strength
3-axis chassis mounting system spreads impact & winching loads
Hillift jack lifting points adjacent the uprights
Mandrel bent tubing
Side hoops upright to suit Brush Bars
Fully formed aerial & light mounts x2
Complete DIY Kit provided
Wide Range to suit many 4WD vehicles
High tensile zinc plated nuts, bolts & washers
Anti-corrosion preparation for durability
High quality powdercoat finish
3 Year Warranty - Unlimited Kms
Standard Features for Premium 'A' Style Alloy Bar and 'H' Style Alloy Bar
'A' Style has traditional A shaped uprights (when viewed from side on)
'H' Style has 3 Hoops above the bumper section - the centre Hoop is 76mm, outer hoops are 50mm
Highly Polished Alloy
Fog lights
Large Polyurethane cushion to reduce impact
Air bag compatible
Winch compatible
Recessed indicator & park lights
Computer aided design & manufacture
Radius formed tapered wings
Fabricated bumper construction
Split bumper for greater airflow & greater strength
3-axis chassis mounting system spreads impact & winching loads
Mandrel bent tubing
Side hoops upright to suit Brush Bars
Fully formed aerial & light mounts x2
Complete DIY Kit provided
Wide Range to suit many 4WD vehicles
High tensile zinc plated nuts, bolts & washers
3 Year Warranty - Unlimited Kms