ƒ
Fuel Tanks
---
Search for Fuel Tanks and related items in our webshop
---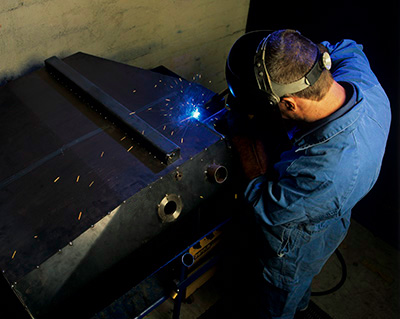 Designed to achieve the largest fuel capacity in the available space without compromising ground clearance, off-road performance or ease of installation.
The 4WD Systems range of tanks has been developed over many years of designing, manufacturing and refining. Our unique and often odd shaped designs optimise the under-vehicle space, ensuring maximum useable capacity to gain driving range and the best value ($ per litre capacity). The use of a long range replacement or auxiliary tank will dramatically improve the driving range of a vehicle from 50 to 200% depending on the tank and model of vehicle.
This increased range and preferred weight distribution provides the necessary safety margin when travelling in remote areas as well as the convenience and safety of not carrying jerry cans and the consequent instability of heavy, high loads.
The increased fuel capacity and distance between fuel stops allows fuel to be purchased at better rates (saving as much as 80¢ per litre in some outback areas).
With increased fuel capacity you have more time to relax and explore, even with increased fuel consumption caused by variations in track conditions. This means you don't have to cut short your excursions or base an entire trip and timetable around fuel stops and availability.
This may seem unimportant until you find that you are unable to see all the interesting sites, or venture along a creek bed or rough track simply because of fuel constraints - getting too close to empty.
Computer aided manufacturing means that all tanks are built to extremely close tolerances, ensuring maximum reliability and quality of manufacture. Every tank has been custom designed and built specifically for each model of vehicle so that fitting clearances, ground clearance, approach and departure angles are uncompromised.
The steel used in a Systems tank is three times thicker than the original and is capable of withstanding the most severe off-road abuse with internal structural baffles.
Systems tanks use a positive fuel delivery method, either by the vehicles original pump or a by an auxiliary pump supplied with the tank. This type of direct delivery is superior and far more reliable than passive syphon or gravity feed systems which are prone to failure and unreliability as a result of small undetectable leaks that inevitably occur over time around seals, joins, hose connections and fuel caps.
All tanks are filled through the vehicles original filler. Most auxiliary installations can be supplied standard with a fuel sender unit that connects to the vehicles original fuel gauge. Fuel delivery and independent tank gauging is controlled by a dash mounted switch.
The tanks are built to a quality assurance program which, apart from the advanced computer aided manufacturing process, involves pressure testing, tank cleaning, and the tracking and recording of every individual tank and its detailed manufacturing history.
All tanks are supplied with detailed comprehensive installation instructions and complete DIY kits comprising everything necessary to fit.
List of standard features
Manufactured in Australia by 4WD Systems
3 Year Warranty - Unlimited Kms
Maximum capacities available without affecting ground clearance or handling
Replacement and LPG conversion tanks use original pump and sender units
Tanks are filled through the vehicle's original filler
Tanks are gauged to the existing dash fuel gauge
All tanks use a positive fuel pumping delivery system
Auxiliary tanks use either a transfer pump or fuel solenoid and original pump (no syphons)
Fuel pickup corral to ensure fuel supply during adverse driving conditions
Full sized internally baffled to stop fuel movement & provide HD structural support for 4WD use
Exhaust shields supplied where necessary
Three-point chassis mounting system
Computer aided manufacturing process ensures close tolerances and high penetration seam welding
Continuous MIG welded seams for maximum strength and durability
Made of heavy duty 2mm steel sheet for maximum strength and durability
Magnetic drain plug to ensure continuing fuel system protection, usually located in fuel corral
Tanks are pressure tested and inspected
Complete fitting kits including detailed instructions and diagrams
All nuts, bolts and washers used are high tensile zinc plated
Tanks are primed and painted in a hammertone finish for surface protection
All external openings are sealed after manufacture
All tanks designed for ease of fitting with DIY Kit
Spare Wheel Carriers are available for many 4WD models to relocate spare wheel.
View More Photos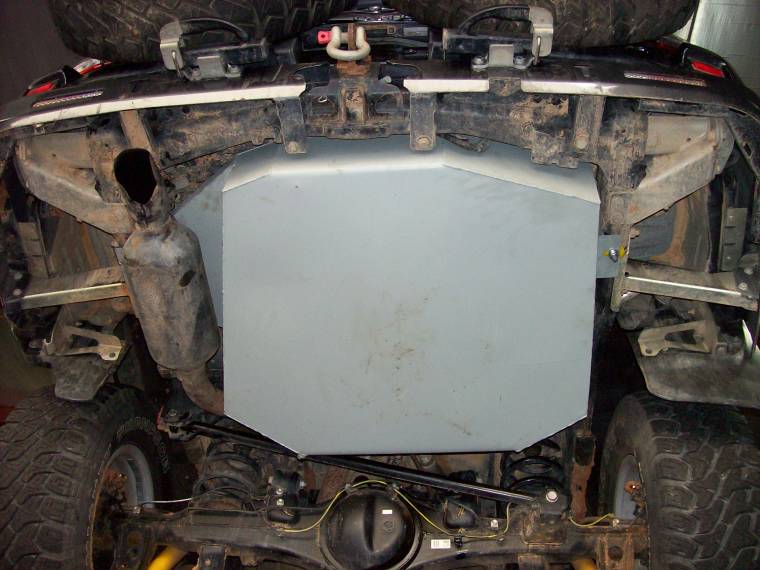 Fuel Tank 180Li fitted to 200 Series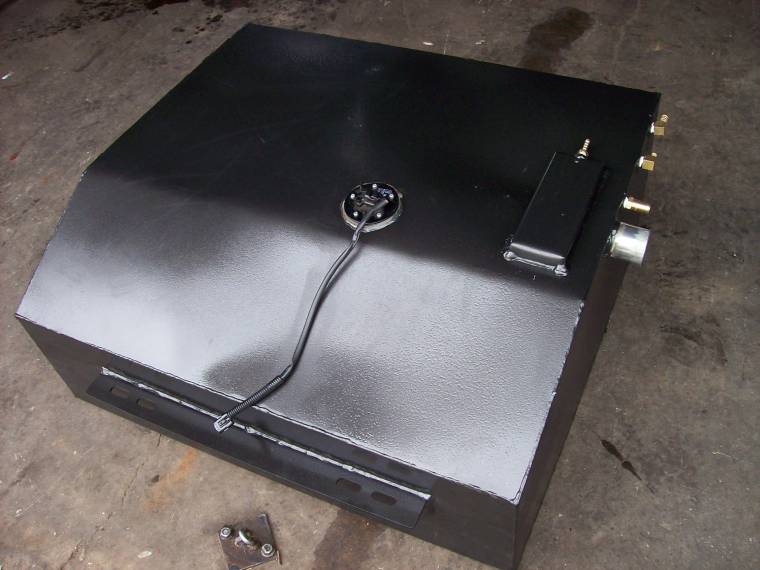 Fuel Tank 170Li fitted to Landcruiser 76Series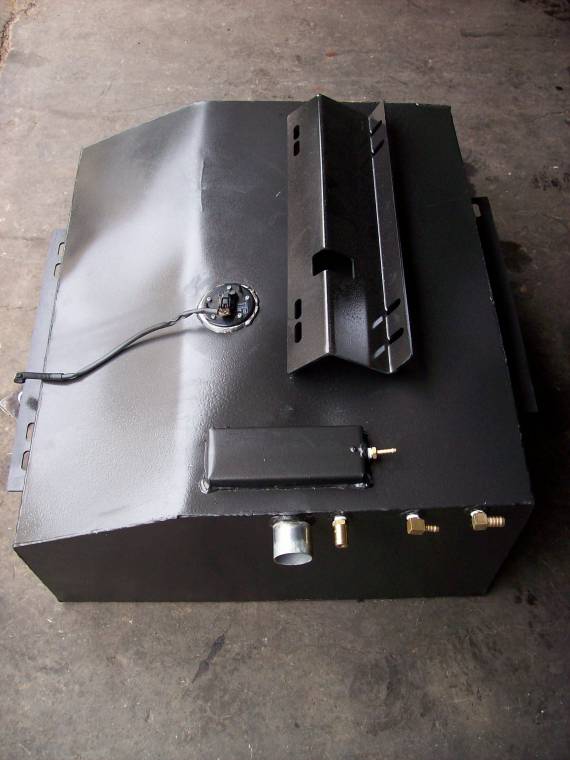 Fuel Tank 170Li fitted to Landcruiser 76Series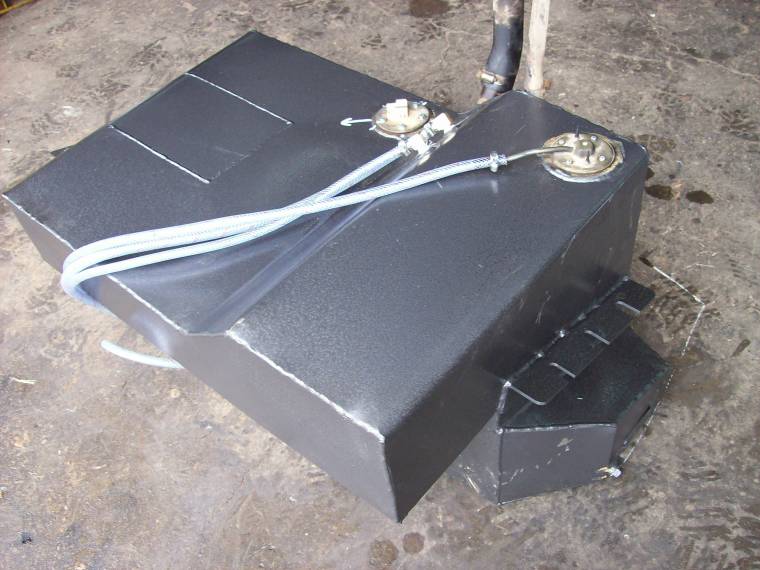 Fuel Tank 117Li suit Hilux 2002-05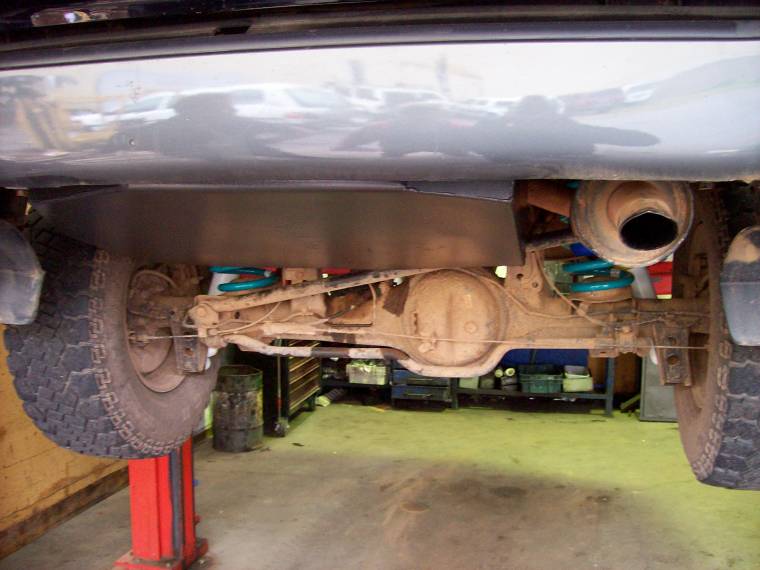 Fuel Tank 170Li fitted to 105Series Diesel - note good departure angle and clearance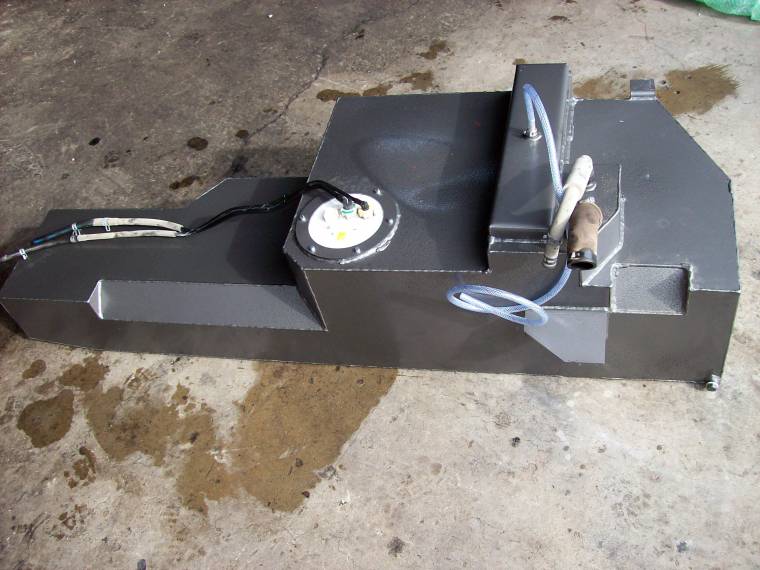 Fuel Tank 144Li suit Hilux 2005-on
View More Photos
Recommendations
Tom M of Casurania NT
I had decided to buy a Long Range fuel tank but had heard stories of large capacity tanks cracking and other people who had electrical problems with smaller auxillary tanks, so to be honest I was a bit confused and 100% sure which way to go - 160Li tank or 70Li auxillary. I need not have worried.
All this was over years ago and the tank has been terrific and trouble free despite being pounded along some bloody awful roads with awesome corrugations and tracks needing very careful low range work to negotiate water crossings, large rocks and just about everything else you would expect to encounter in the outback.
These 'roads' include the Meerenie Loop Road, Ernest Giles Road, Gibb river Road, Bungle Bungles access road, many dirt roads in Kakadu National Park, the Top End and central Australia. In short it is tough tank!!!
The tank has been and continues to be and essential item fitted to the TD Patrol as it provides the means to undertake many shorter trips without having to re-fuel.
I had considered carrying extra fuel in a 20Li jerry cans but decided on safety grounds against this.
I have found the 4WD Systems tank very practical and extremely handy as I can sometimes take advantage of filling up in some larger towns on trips wheer fuel is much cheaper or making back to Darwin before re-fueling.
---
Mike T of Ottawa, Canada
This is a quick note to say thanks for the excellent fuel tank I bought from you. I installed it myself a few weeks back and I was completely impressed by the quality of your product. ... The ingenious use of space for this tank, taking advantage of all the empty space not normally taken up by the factory tank, is amazing.
I am extremely pleased and satisfied. I've been showing off the tank to all who want to know about it and highly recommended your company to those looking for the type of enhanced products that you specialize in.
---
Murray M
Let me thank you for the replacement fuel tank and custom cargo barrier. Both installed perfectly on the weekend. After some of the horror stories mates had told me about fitting replacement tanks, I was a little concerned, but after seeing how you tank mounted I don't know what I was worried about. Everything lined up perfectly and it was obvious that the design meant that even if thinks were a little off centre there was enough adjustment possible to take it into account. The cargo barrier fits perfectly, it looks better than any of the other custom barriers that I have seen. Thank you for supplying such high quality accessories. I will definitely be spreading the word up here about your products.
---